Sausage, Pepper and Fennel Risotto
Total time: 30 minutes
    I used chicken sausages for this - but use any flavor you like, turkey, pork, spicy or not.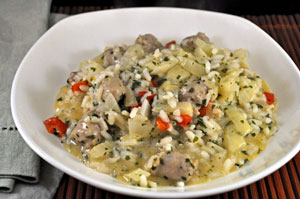 Ingredients:
2/3 cup (4.2oz, 125gr) Arborio rice

(or other rice specifically for risotto - Carnaroli or Vialone Nano)

1/2 cup (4oz, 120ml) dry, white wine
2 1/4 cups (18oz, 540ml) chicken stock

may not all be used

1/2 onion

other half for the condimenti

1 tbs butter
1/2 cup Parmesan cheese - freshly grated  (about 2oz, 60gr)
Condimenti:

6oz (180gr) sausages, any flavor, hot or not  

1 medium fennel bulb
1/2 onion
1 clove garlic
1 small orange or red bell pepper  
1 tbs parsley
 Instructions:
Heat chicken stock and keep hot over low heat. 
Finely chop onion. 
In medium saucepan heat butter over medium heat.  Add onion and sauté until transparent. 
Add rice and sauté stirring, for 2 - 3 minutes until rice has white center. 
Add white wine and stir. 
Start condimenti. 
When wine is almost absorbed add a 1/3 cup of stock, stir.  
When stock is almost absorbed add another 1/3 cup and continue adding 1/3 cup at a time and stirring. 
Before the last 1/3 cup taste a few kernels of rice.  They should be just 'al dente' - slightly resistant to the tooth but fully cooked.  If more stock is needed add it 1/6 cup at a time and waiting until almost completely absorbed. 
At this point risotto will be thick but not stiff - there will still be visible liquid and it will not hold its shape on a plate. 
Stir in the Parmesan and condimenti, pour into a bowl or risotto platter and serve immediately.  It will continue to absorb liquid and the leftovers (if any) will be very stiff. 
Condimenti:
Cut the sausage into 1" (3cm) pieces. 
Chop the onion and pepper.  
Mince the garlic. 
Slice off stem end of fennel, remove outer layer if needed, otherwise rinse.
Cut fennel into 1/4" (.5cm) slices, then cut slices in half.
Heat olive oil in nonstick skillet over medium.  Add pepper, fennel and onion and sauté 5 minutes. 
Add garlic, sausages and sauté until sausages are cooked through, 7 - 8 minutes longer. 
Turn heat to low and let cook slowly until needed.