Recipe in:
One Dish Dinners
  (Pies, Pizzas and Quiches)
Ratatouille Quiche
Total time: 60 minutes
    I use a brown rice crust: it's healthier and I don't make pie crust.  But you could certainly use a proper pastry or pie crust if you prefer.  Instead of Prosciutto you could substitute a bit of regular, baked ham or smoked turkey.  The vegetables are quickly cooked to reduce liquids and thicken.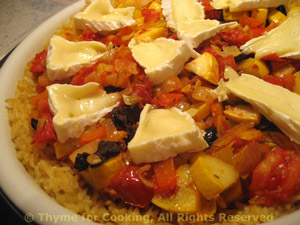 Ingredients:
1/2 cup (3.3oz, 95gr) quick-cooking brown rice  

substitute Basmati

1 cup (8oz, 240ml) chicken stock
1 egg
1/4 cup (1oz, 30gr) shredded cheese  

any flavor - it helps to bind the crust

1 small yellow squash (courgette), 7" (17cm)
1 medium onion
2 cloves garlic
1/2 red bell pepper
1 large tomato
1/2 tsp thyme
2 tsp olive oil plus a bit for the dish
4oz (120gr)  Brie, chevre  

or other semi-soft cheese

3oz (90gr) Prosciutto or other dry-cured ham

I used 3 thin slices

1/2 cup Greek olives
3 eggs
1 cup (8oz, 240ml) milk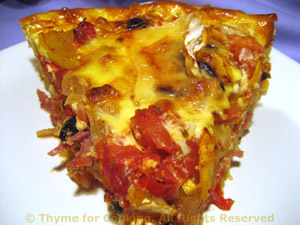 Instructions:
The Crust: 
Cook rice in stock according to package instructions. 
When done, spread out on a plate for 5 minutes to allow to cool a bit.
Lightly oil a 10" (25 cm) pie or quiche plate. 
Lightly whisk 1 egg. 
Add 1/4 cup shredded cheese and the cooked rice.  Mix well. 
Pat into the quiche plate, working it up the sides as best you can. 
Bake in 400F (200C) oven for 8 minutes.  Remove.
The Ratatouille: 
Cut the squash in fourths the long way, then into 1/4" (.5cm) slices. 
Roughly chop the onion, pepper and tomato. 
Mince garlic. 
Roughly chop olives.
Heat oil in large skillet.  Add onion, pepper and sauté until onion is tender. 
Add garlic, squash, tomatoes and sauté until squash is tender and mixture is thick. 
Stir in olives and thyme.
Slice Brie, 1/4" thick. 
Tear or cut Prosciutto into large pieces.  
Whisk eggs and milk together.
To assemble: 
Lay Prosciutto on crust. 
Spread vegetables evenly over the top. 
Lay Brie on the vegetables. 
Pour the egg mixture over as evenly as you can. 
Bake for 30 minutes, until center has set. 
Remove and let rest 5 minutes.  Slice and serve.
Note:  When baking quiches or tarts, I put the dish on a sturdy baking tray, before pouring in the egg mixture, for easier handling.  The dish can get very full.