Recipe in:
One Dish Dinners
  (Pies, Pizzas and Quiches)
Chard, Pork, Goat Cheese and Mushroom Quiche
Total time: 60 minutes
   The chard is quickly sautéed, mainly to help it fit into the quiche dish.  You can use sautéed chicken breasts, leftover pork; chevre or Brie.  This is a very flexible recipe.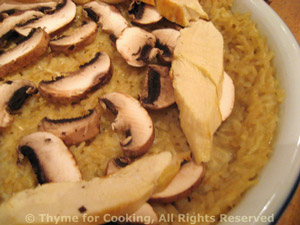 Ingredients:
2/3 cup quick-cooking brown rice    substitute Basmati
1 1/3 cup (11oz, 330ml) chicken stock
4 eggs
1/4 cup (1oz, 30gr) shredded cheese, any flavor   it helps to bind the crust
8oz (240gr) sliced pork
6oz (180gr) chard
3oz (120gr) mushrooms
4oz (120gr) goat cheese    or other strong, soft cheese
1 tsp oregano
2 tsp olive oil, plus a bit for the dish
1 cup (8oz, 240ml) milk
Instructions: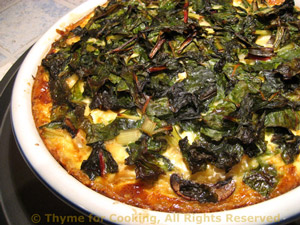 The Crust: 
Cook rice in stock according to package instructions. 
When done, spread out on a plate for 5 minutes to allow to cool a bit.
Lightly oil a 10" (25 cm) pie or quiche plate.
Lightly whisk 1 egg.
Add 1/4 cup shredded cheese and the cooked rice. Mix well. 
Pat into the quiche plate, working it up the sides as best you can. 
Bake in 400F (200C) oven for 8 minutes. Remove.
The Filling:  
Wash the chard and trim any bad bits. 
Stack the leaves together and fold over, the long way. Slice into thin strips, using both leaves and stems.
Heat oil in a large skillet.  Add the chard to the skillet and sauté until wilted and tender, about 7 minutes. 
Remove from heat.
Clean and slice mushrooms.
Slice cheese 1/4" thick. 
Slice pork. 
Whisk eggs and milk together.

To assemble:

Lay the mushrooms on the crust. 
Top with the sliced pork, the cheese and the chard. 
Sprinkle with oregano.  
Pour the egg mixture over all and bake for 30 - 40 minutes, until center has set. 
Remove and let rest 5 minutes.
 Slice and serve.
Note: When baking quiches or tarts, I put the dish on a sturdy baking tray, before pouring in the egg mixture, for easier handling. The dish can get very full.