Recipe in:
One Dish Dinners
  (Pies, Pizzas and Quiches)
Yorkshire Pudding Pie
Total time: 45 minutes
    Filled with peppers, onions and spinach, this is a savory pie for a one-dish dinner.  I use a bit of sausage in this but you could easily use cooked chicken, beef or ham; just not too much or it won't 'puff' properly.  Any leftovers are great for breakfast!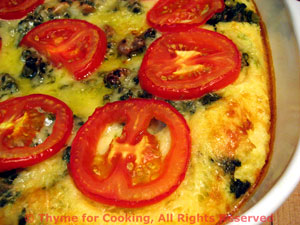 Ingredients:
6oz (180gr) bulk sausage, or link, removed from casings
1/2 medium onion
1/2 green pepper
1 rib celery
2 cloves garlic
8oz (240gr) frozen, chopped spinach
1 tsp dried basil
2 tomatoes
1/2 cup shredded cheese,  (2oz, 60gr)
2 eggs
1 cup (8oz, 240ml) milk
1 cup flour
pinch nutmeg
1/4 tsp salt
4 tsp olive oil
 Instructions:
Peel and chop onion, garlic. 
Chop pepper, celery.
Heat 2 tsp olive oil in medium nonstick skillet over medium-high heat.
Add onion, pepper, celery, garlic and sauté until tender.
Add sausage and brown, breaking it up as it cooks.
When done remove from heat.
Thaw spinach and squeeze dry.
Add to meat mixture along with basil and mix thoroughly.
Slice tomatoes thinly: 5 - 7 slices per tomato.
In medium bowl lightly beat eggs with wire whisk.
Add milk, flour, salt and nutmeg.  Beat lightly to just combine; a few lumps are okay - over-beating is not.
Put remaining 2 tsp olive oil in 10-inch glass baking dish and run it around to coat the bottom.
Pour in the batter mixture.
Spoon meat/spinach mixture over top to within 1 inch of sides of dish.
Layer tomatoes on top of meat and sprinkle with cheese.
Bake at 425F (215C) for 30 minutes or until edges puff up and are golden brown.
Cut into wedges and serve.