Recipe in:
One Dish Dinners
  (Stir-Fries and Skillet Dinners)
Stuffed Bell Peppers, Oriental Style
Total time: 45 minutes
   Stuffed Bell Peppers don't always have to have tomato sauce and cheese on them.  Choose whatever color pepper you like.  You could substitute Basmati or regular rice for the brown. Try to get 4-sided peppers, they are easier to stuff and lie flat.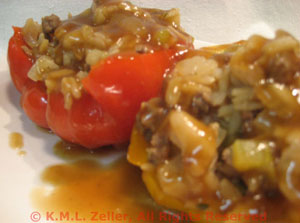 Ingredients: 
 Instructions:
Note: If you have any of the beef and rice left after filling peppers (as always, depends on size of peppers) just remove from skillet, keep it warm and serve on the side also.
Note2: Use quick cooking rice - it will cook in the time it takes to sauté the meat. The rice I use takes about 15 minutes.