Recipe in:
One Dish Dinners
  (Stir-Fries and Skillet Dinners)
Stuffed Peppers,
Americas Style
Total time: 40 minutes
    Quinoa makes it so much more interesting and adds a meatier texture to the finished peppers than the, more traditional, rice!  Use ground turkey if you prefer.... Something else I can't get.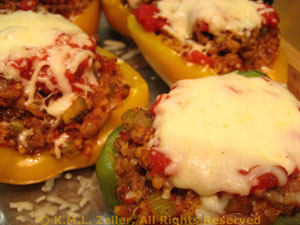 Ingredients:
 Instructions:
Cook quinoa in stock until done. 
Put a large pot of water on high heat and bring to a boil. 
Cut peppers in half the long way (try to find the best flat sides before cutting so that they will lie nicely) and remove stem end and seeds. 
When water is boiling drop peppers in and simmer for 5 minutes. 
Remove (use tongs) and put into a baking dish that will just hold them (if possible). 
Finely chop onion, celery; mince garlic. 
Clean and chop mushrooms. 
Heat oil in nonstick skillet over medium-high heat.  Sauté chili powder and paprika for 1 minute. 
Add celery and onion, sauté until tender, 5 minutes. 
Add garlic and mushrooms, sauté 3 minutes longer. 
Add beef and sauté until cooked through breaking it up as it cooks. 
Add stock, tomato paste, oregano, 1/4 cup tomato sauce and hot pepper sauce if using. 
Dissolve cornstarch in water. 
When stock mixture is simmering, stir cornstarch in to thicken. 
Remove from heat, add quinoa and stir well to combine. 
Spoon mixture into the pepper halves. 
Cover with foil and bake for 15 minutes at 400F (200C). 
Remove foil, spoon the remaining tomato sauce on top of each pepper and sprinkle with shredded cheese. 
Bake, uncovered until cheese melts. 
Serve. 
Note: Keep any extra stuffing warm and serve on the side.