Pasta with Sausages and Cherry Tomatoes
Total time: 25 minutes
   An easy pasta dinner, updated for spring with cherry tomatoes.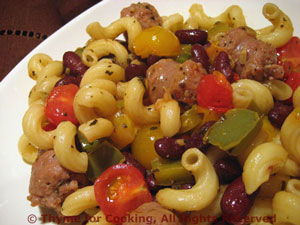 Ingredients:
 Instructions:
Cook pasta according to package instructions.
Slice sausages into 1" (2.5cm) lengths.
Roughly chop onion and pepper. 
Cut tomatoes in half.
Heat oil in large nonstick skillet over medium heat. 
Add onion, pepper and sauté 5 minutes.
Add sausage and sauté until sausage is browned, 5 - 7 minutes.
Add beans, chicken stock, herbs and heat through.
When pasta is done, drain and add to skillet along with cherry tomatoes. 
Stir well to combine. 
Cover and simmer 1 - 2 minutes to heat through and cook tomatoes slightly.  Serve.