Pasta with Red Beans and Ham
Total time: 30 minutes
     Beans are a major vegetable in both France and Spain, but are normally sold plain, rarely flavored or spiced.  Frying the chili powder releases more of the flavor.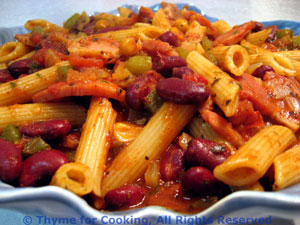 Ingredients:
 Instructions:
Cook pasta according to package directions. Drain.
Chop onion, celery and pepper.
Finely chop garlic. 
Trim ham and cut into bite-size pieces.
Drain and rinse the beans.
Drain the tomatoes, reserving the juice, then roughly chop.
Heat oil in large, nonstick skillet over medium heat.   Add chili powder and sauté 1 minute.
Add onion, celery, pepper, garlic and sauté 7 - 8 minutes.
Add ham and sauté briefly.
Add beans, tomatoes, juices, herbs and hot pepper sauce if using.
Cover and simmer over low heat for 10 minutes.
Add green chilies and simmer 5 minutes longer.
Taste, adjust heat, remove bay leaves, add to pasta and toss well.  Serve.