Mushrooms Stuffed with Bacon
Pasta with Mediterranean Meat Sauce
Glazed Tarragon Carrots
Pasta with Mediterranean Meat Sauce
Total time: 35 minutes
     Sherry and paprika from Spain; olives from Italy, Spain and Greece; feta from Greece; red peppers from France; capers and tomatoes from everywhere... An International dish!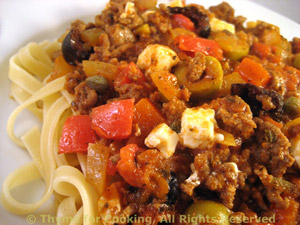 Ingredients:
8oz (240gr) ground beef (mince)
1 red bell pepper
1 large onion
2 cloves garlic
1/4 cup (2oz, 60ml) sherry
1/4 cup (2oz, 60ml) beef broth / stock
15oz (450gr) whole tomatoes
2 tsp paprika
1 tsp oregano
1 tsp basil
1 tbs olive oil
1/3 cup green and black olives, mixed
2 tbs capers
3oz (90gr) feta
4oz (120gr) linguini or other long pasta
 Instructions:
Cook pasta according to package directions.  When done, drain.
Roughly chop the pepper and onion. 
Mince the garlic. 
Roughly chop tomatoes, reserving all juices.
Heat 1 tbs oil in nonstick skillet. Add the paprika, onion, pepper, garlic, and sauté over medium heat for 5 minutes. 
Add the beef and sauté, breaking it up as it browns. 
Add the tomatoes, juices, sherry, stock and herbs.  Bring to a boil, reduce heat and simmer, uncovered until the sauce reduces and thickens, about 20 minutes.
Pit and roughly chop the olives.
Cube the feta. 
Stir the olives and capers into the sauce and simmer another minute. 
Remove sauce from heat and gently stir in feta. 
Spoon over pasta and serve.