Pasta with Lamb and White Beans,
Greek Style
Total time: 25 minutes
     Originally made with leftover lamb, this could as easily be made with fresh ingredients.  The cherry tomatoes and green garlic add a touch of spring, and just enough 'tomato' flavor.  The feta and dry-cured olives add the taste of Greece.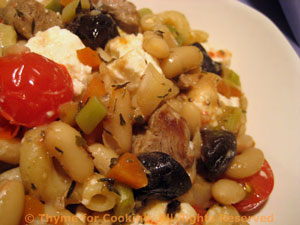 Ingredients: 
2 cups leftover lamb  or raw lamb cut into pieces
1 1/2 cups (12oz, 360gr) white beans 

or 15oz (450gr) can or jar, drained and rinsed

1 carrot
1 rib celery
4 - 5 green garlic,  about 1/2 cup, sliced 

substitute 4 green onions, sliced, and 1 clove garlic, minced

1 cup (4oz, 10gr) cherry tomatoes
3oz (90gr) feta
1/3 cup dry-cured Greek black olives
2 tsp olive oil
1 tsp dried oregano
1/2 tsp dried thyme
1/2 cup (4oz, 120ml) chicken stock
1 1/4 cups (4.2oz, 125gr) pasta - penne, rigatoni
 Instructions:
Cook pasta according to package directions, drain.
Roughly chop carrot, celery.
Cut the lamb into bit-size pieces.
Trim and thickly slice green garlic.
Cut the cherry tomatoes in half.
Cut the olives in half.
Cut the feta into small cubes.
Heat the oil in a large nonstick skillet. 
Add the carrot, celery, (lamb if it's raw) and sauté until tender, about 5 minutes. 
Add the green garlic and sauté 3 minutes longer. 
 Add the cooked lamb, stock, beans, herbs and bring to a simmer. 
Add pasta, tomatoes, olives and feta, heat through.
Serve.