Italian Beef and Beans
Total time: 40 minutes
     A simple, one pan dish:  the pasta cooks right in the skillet, thickening the sauce and absorbing the flavors.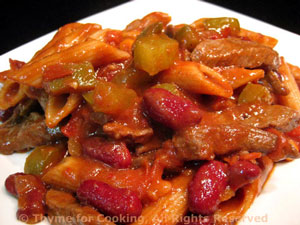 Ingredients:
12oz (360gr) flank steak or other beef appropriate for stir frying or quick cooking, or ground beef
1 medium onion
2 garlic cloves
1/2 green pepper
1 tsp chili powder
4 tsp olive oil
1 tsp oregano
1 tsp basil
1 cup (8oz, 240ml) beef broth 
1 3/4 cups (15oz, 450gr) whole tomatoes
1/2 cup (4oz, 120ml) red wine
1 cup (8oz, 240gr) red or white kidney beans
1 1/4 cups (4.2oz, 125gr) pasta - penne, rigatoni, rotelle
 Instructions:
Peel and chop the onion. 
Peel and finely chop the garlic. 
Chop the pepper. 
Heat 2 tsp oil in large non-stick skillet and sauté chili powder for 1 minute. 
Add onions, garlic and peppers; sauté until tender.  Remove to a plate. 
Slice the beef on an angle across the grain, then cut the slices into large, bite-size pieces. 
Heat remaining 2 tsp oil in same skillet.  Add beef and sauté until starting to brown, 3 - 4 minutes. 
Open the tomatoes.  Remove the whole tomatoes and roughly chop; reserve the liquid. 
Return peppers & onions to pan and add all remaining ingredients including tomatoes and reserved liquid. 
Stir to combine, cover, reduce heat and simmer 20 - 25 minutes, until pasta is done. 
Stir from time to time to keep pasta from sticking.  Serve.