Chicken, Spinach and Feta Pasta
Total time: 30 minutes
    A pasta dish with a Greek twist - feta cheese and dry-cured black Greek Olives, plus peppers, garlic and onions.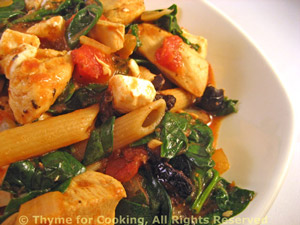 Ingredients:
2 chicken breasts, boneless, skinless
1/2 red or green bell pepper
1/2 onion
2 cloves garlic
1 tbs paprika
1 tbs olive oil
1 3/4 cups (15oz, 450gr) chopped tomatoes
1/2 cup (4oz, 120ml) white wine
6oz (180gr) fresh or frozen spinach
2 tsp dried basil
2 tsp dried parsley
3oz (90gr) feta
1/2 cup dry-cured, pitted Greek olives
1oz (30gr) grated Parmesan
1 1/4 cups (4.2oz, 125gr) pasta, bite size
 Instructions:
Cook the pasta according to package directions. 
Slice the pepper into matchsticks then cut in half.  
Chop the onion and mince the garlic.
Cut chicken into bite-size pieces.
Pit olives, if needed and cut in half.
If using fresh spinach, pick through leaves, discarding any that are damaged or wilted, and tearing any that are huge.
In a large skillet heat oil.  Sauté paprika in hot oil for 1 minute.
Add onion, pepper and garlic, sauté for 5 minutes.
Add chicken and sauté until cooked through.
Add wine, herbs, tomatoes and spinach,

if using frozen,

and cook, uncovered until spinach is thawed and sauce has reduced and thickened slightly. 
Add spinach,

if using fresh,

olives, feta and cooked, drained pasta. 
Toss to combine and heat through. 
Sprinkle with Parmesan and serve.
Note: To pit olives, place them on a flat surface, place the flat of a large knife on top and hit with the base of your hand.  This will crack and flatten the olive.  Pick the pit out.