Pasta with Chicken, Red Pepper and Red Beans
Total time: 25 minutes
   Red pepper, red beans and a few of the last fresh tomatoes come together for a quick sauce for pasta and sautéed chicken breasts.  Delicious doesn't have to be difficult!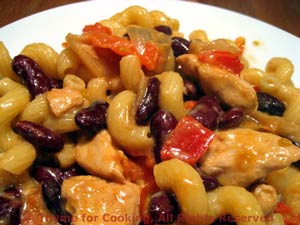 Ingredients:
1 1/4 cup dried pasta,

curly macaroni, rigatoni

2 chicken breasts
1 medium red pepper
1 medium onion
2 cloves garlic
1 tsp paprika
2 tsp olive oil
15oz (450gr) red beans
2 - 3 medium tomatoes
1/3 cup (3oz, 90ml) chicken stock
 Instructions:
Cook the pasta according to package directions.
Roughly chop the pepper, onion and tomatoes. 
Mince the garlic.
Cut chicken into large bite-size pieces.
Open, drain and rinse beans.
In a large skillet heat oil.  Sauté paprika for 1 minute.
Add onion, pepper and sauté for 5 minutes.
Add chicken and sauté until cooked through. 
Add garlic, sauté 1 minute longer. 
Add tomatoes, stock, beans; simmer until tomatoes soften and sauce starts to thicken, 5 - 10 minutes. 
Pour sauce over pasta, stir well to combine and serve.