Pasta with Beef and Peppers
Total time: 25 minutes
     An Italian stir-fry!  The beef and peppers will cook in less time than the pasta. This is not meant to have a 'sauce' in the traditional manner, but a light coating of flavors on the pasta with chunky beef and peppers on top.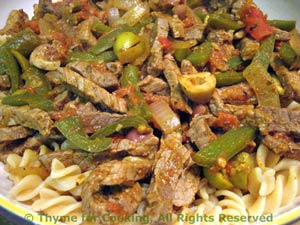 Ingredients:
10oz (300gr) flank steak or other beef / meat suitable for stir frying or quick cooking
1 medium onion
2 garlic cloves
1 green bell pepper
1 3/4 cups (15oz, 450gr) whole tomatoes
1/3 cup olives
1/2 tsp chili powder
4 tsp olive oil
1 tsp dried oregano
1 tsp dried basil
1 1/4 cups (4.1oz, 125gr) pasta - penne, rigatoni, rotelle
 Instructions:
Cook pasta according to package directions. 
Peel and vertically slice (cut it in half first) the onion. 
Peel and finely chop the garlic. 
Pit the olives if necessary and cut in half. 
Trim and slice the pepper into strips. 
Slice the beef on an angle across the grain, then cut the slices into large, bite-size pieces.
Heat 2 tsp oil in large non-stick skillet.  Add chili powder and sauté briefly. 
Add onions, garlic, peppers and sauté until tender, 7 - 8 minutes.  Remove to a plate.  
Heat remaining 2 tsp oil in same skillet.  Add beef and sauté until starting to brown, 3 - 4 minutes. 
Open and drain the tomatoes, discarding or saving juices for another use. 
Roughly chop the tomatoes.  Add the tomatoes to the beef and sauté 5 minutes. 
Return peppers & onions to the pan and add olives and herbs. 
Cover and simmer 5 minutes, until everything is heated through. 
When pasta is done, drain and put into large pasta bowl. 
Add beef and peppers and toss to combine.  Serve.