Recipe in:
One Dish Dinners
  (Stir-Fries and Skillet Dinners)
Turkey Lo Mein
Total time: 30 minutes
     You can either use turkey cutlets, cut into strips or part of a turkey tenderloin, cut into bite-size pieces.  Almost any vegetable, cut small, will work in this.  It's a great way to use up the odd bits left in the fridge.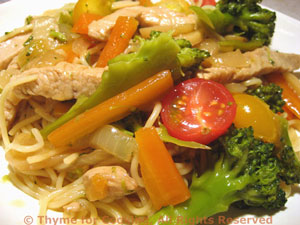 Ingredients:
10oz (300gr) turkey tenderloin or cutlets
1 onion
1 clove garlic
1 tbs minced ginger

substitute 1/2 tsp dried

1 rib celery
8 - 10 cherry tomatoes, 

about 2/3 cup

1/2 head broccoli 
1 carrot
4oz (120gr) spaghetti -  

about 1" (2.5cm) circle

1 tbs olive oil
3/4 cup (6oz, 180ml) chicken stock
1 tbs cornstarch (corn flour, Maizena) dissolved in
1 tbs soy sauce plus 1 tbs water
 Instructions:
Cook pasta according to package instructions.
While pasta cooks:
Thinly slice onion.
Mince garlic. 
Mince ginger (peel first). 
Julienne the carrot. 
Slice the celery at an angle. 
Cut broccoli into florets (with some stem). 
Cut tomatoes in half.
Cut the turkey into strips. 
Heat olive oil in large nonstick skillet over medium-high heat.   Add onion, celery to skillet and stir-fry for 2 minutes. 
Add garlic, ginger, and stir-fry another 2 minutes.  Remove onions/garlic from pan and set aside. 
Add turkey and stir-fry 3 - 5 minutes, until golden.  Remove and put with onions. 
Add broccoli and carrots to skillet and stir-fry 5 minutes. 
Return turkey and vegetables to pan.  Add chicken stock and bring to a boil. 
Cover, reduce heat and simmer for 5 minutes.
Remove cover and add cornstarch mixture and stir until thickened. 
Add tomatoes, drained spaghetti and toss well to coat.  Serve.