Recipe in:
One Dish Dinners
  (Stir-Fries and Skillet Dinners)
Pork Lo Mein with Peanut Sauce
Total time: 25 minutes
   Stir-fries cook quickly and are very flexible when it comes to ingredients.  I always try for a mix of colors, textures and flavors... And whatever is left in the fridge.  Amounts are not precise, just try to keep it balanced.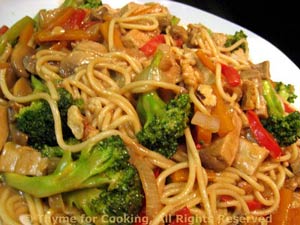 Ingredients:
8oz (240gr) lean pork, 

tenderloin or chops 

1 onion
2 cloves garlic
1 tsp minced ginger
1/2 bell pepper, green or red
1/2 head broccoli, 6oz (180gr)
1 carrot
4oz (120gr) mushrooms

4oz (120gr) spaghetti -

about 1 1/4" (3cm) diameter bunch (make a circle with thumb and index finger - you want it a little bigger than an American quarter, about the size of a 2 euro coin)

2 tsp sesame oil
2 tsp olive oil
1 cup (8oz, 240ml) beef stock
2 tbs peanut butter
2 tbs soy sauce
2 tbs sherry (optional)

1/4 cup walnuts,  1oz (30gr)

substitute almonds or peanuts

1 tbs cornstarch (Maizena) dissolved in 2 tbs water
 Instructions:
Cook pasta according to package instructions.
Thinly slice onion.
Mince garlic.
Mince ginger (peel first).
Julienne the pepper and carrot.
Trim and slice mushrooms.
Cut broccoli into florets (with some stem).
Cut the pork into large bite-size pieces.
Heat olive oil in large nonstick skillet over medium-high heat.   Add onion to skillet and stir-fry for 2 minutes. 
Add garlic, ginger and stir-fry another 2 minutes.  Remove onions/garlic from pan and set aside.
Add sesame oil to pan and heat.  Add pork and stir-fry 3 - 5 minutes, until nicely browned.  Remove and put with onions. 
Add broccoli, carrots, mushrooms, pepper to skillet and stir-fry 5 minutes.
Return pork, onions, garlic and ginger to pan.  Add beef stock and bring to a boil.
Cover, reduce heat and simmer for 5 minutes.
In a small bowl, whisk together sherry, soy sauce and peanut butter. 
Uncover skillet and stir in peanut butter mixture and walnuts.
Stir in cornstarch mixture until thickened.
When pasta is done, drain and add to skillet. Toss to combine, tongs work best, or two forks.   Serve.
Add more soy sauce if desired, according to taste.