Lentils with Brown Rice and Sausage 
Total time: 45 minutes
     Almost a one-dish dinner, the rice and lentils are cooked together in a sofrito of garlic, onion, pepper, celery and carrot.  Add as much or as little chili powder as you like and/or finish with a dash of hot sauce.  Both the lentils and the brown rice I use cook in 20 minutes.  If you use traditional, long-cooking brown rice, partially pre-cook it before adding.  Or substitute Basmati.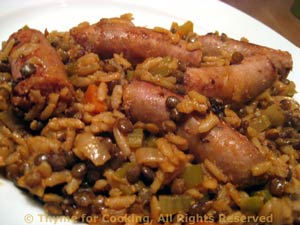 Ingredients:
1 onion
2 cloves garlic
2 tsp olive oil
1 tsp chili powder
1/3 cup lentils, either Lentils du Puy or regular tan or brown lentils
1/2 cup (3.3oz, 95gr) brown rice, quick-cooking (20 minutes)
2 1/4 cups (18oz, 540ml) chicken stock
10oz (300gr) sausages, Italian, spicy, turkey
1/2 green pepper
1 carrot
1 rib celery
1 tsp oregano
1 tbs tomato paste
 Instructions:
Chop onion.
Mince garlic.
Heat oil in large saucepan over medium-high heat.  Add chili powder and sauté 1 minute. 
Add onion, garlic and sauté 5 minutes. 
Chop celery, green pepper and carrot, add to skillet and sauté 5 minutes longer. 
Pick over lentils in case they missed the odd stone. 
Add stock, rice, lentils and oregano to pan and bring to a boil. 
Cover, reduce heat and simmer for 20 minutes or until done.  Stir occasionally. 
In a nonstick skillet, sauté sausages until well-browned and cooked through.  Cover and remove from heat until needed.
Check rice/lentils by tasting.  Are they done?  If not do they need more liquid?  If they are, do they need to be drained (they shouldn't).  There should be a bit of liquid left, if not add a tbs or 2 of water. 
Add the tomato paste and stir well. 
Cut sausages into 3 or 4 pieces each and add to rice/lentils.  Heat through and serve.