Sausage and Spinach Lasagne
Total time: 50 minutes
    This is a hearty lasagne, a bit more familiar, but with a few flavor twists: fresh spinach, sausage and a bit of green pepper.  Using no-cook noodles makes it all easy.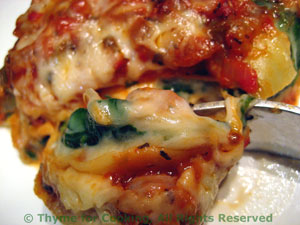 Ingredients:
12 - 16 sheets 'no-cook' lasagna noodles
10oz (300gr) sausages, any flavor 
1 tbs olive oil
1 onion
1 small green bell pepper
2 cloves garlic
15oz (450gr) whole tomatoes
1 cup (8oz, 240ml) tomato sauce
1 tsp dried oregano
1 tsp dried basil
7oz (210gr) fresh spinach
2 tbs butter
2 tbs flour
1 1/2 cups milk, 12oz, (360ml)
1 cup (4oz, 120gr) shredded Gruyere cheese
 Instructions:
Meat Sauce:

Finely chop onion, pepper and garlic.
Heat the oil in a large skillet over medium heat. Add onion, pepper, garlic and sauté for 10 minutes or until tender.
Slice sausages as thinly as possible (less than 1/2", 1cm) and add to skillet.  Sauté until cooked through. 
Drain whole tomatoes, reserving sauce, and roughly chop. 
Add to skillet along with tomato sauce, reserved sauce and herbs.
Cover, reduce heat and let simmer until needed.

Béchamel sauce:

In a medium saucepan heat the butter over low heat.
Add flour and stir with a whisk for 1 minute.
Add a little (1/4 cup) of the milk and whisk to combine.
Turn heat up to medium-high and keep adding milk, a little at a time and whisking. You should have added all of the milk in a minute or 2.
When all of the milk is in bring to a boil (should almost be there), whisking. Then remove from heat.

Spinach

:
Remove any tough stems from the spinach and wash.  Drain well. 
Cut any huge leaves. 

To assemble:

in an square, 10 X 10 (25 X 25cm) or oblong baking dish, 8 X 10, (20 X 25cm) or so... make the following layers:
1/2 béchamel sauce
3 - 4 lasagne noodles, I have to break one up to get good coverage
1/3 meat sauce
3 - 4 lasagne noodles
1/2 béchamel sauce
1/2 of the cheese
3 - 4 lasagne noodles
all of the spinach
1/3 meat sauce
3 - 4 lasagne noodles
1/3 meat sauce
1/2 cup shredded cheese
Cover and bake 400F (200C) for 20 - 25 minutes, or until noodles are tender. Test in center with a sharp knife.
Uncover and bake 5 minutes longer to brown cheese.
Remove and let rest for 5 minutes. Cut into squares (or oblongs) and serve.