Recipe in:
One Dish Dinners
  (Stir-Fries and Skillet Dinners)
Egg Fu Yung
(Chinese Pancakes with Cabbage & Brown Rice)
Total time: 35 minutes
    If you cook the rice with water or vegetable stock, you have a lovely vegetarian main course.  The rice adds 'substance' to the egg although you really can't tell that it's there.  The cabbage retains just enough crunch.  They go together quickly if the rice is cooked in advance.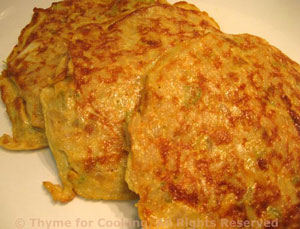 Ingredients:
1/2 cup (3.3oz, 95gr) quick-cooking brown rice   

cooked, yielding 1 1/2 cups cooked rice

1 cup (8oz, 240ml) chicken stock
2 cups finely shredded cabbage
1 medium onion
1 rib celery  

optional

4oz (120gr) water chestnuts  

optional

2 tbs soy sauce
6 eggs
2 tbs olive oil

Sauce:

1 1/2 cup (12oz, 360ml) chicken broth
1 1/2 tbs soy sauce
1 tbs molasses

(brown sugar could be substituted ...not as good, but...)

2 tbs cornstarch (maizena) dissolved in 2 tbs water
 Instructions:
Cook brown rice in stock or water according to package instructions.
Shred cabbage by cutting slice off of head, lay the slice cut side down and cut into 4ths, then, cutting across, slice1/8 inch thick.  Do not use the core of the cabbage - you'll recognize it when you see it. 
Finely chop onion, celery if using and water chestnuts, if using. 
In large nonstick skillet heat 2 tsp olive oil and sauté cabbage, onion, celery and water chestnuts until cabbage is wilted and onions tender, 7 - 10 minutes. 
Put vegetables in a large bowl. 
Add rice to vegetables along with soy sauce and mix well. 
If rice was just cooked, let it cool a few minutes while you make the sauce - see below. 
In another bowl whisk 6 eggs. 
Add the eggs to the vegetable/rice mixture and stir well. 
In same skillet heat remaining 2 tsp olive oil over medium-high heat. 
When pan is hot drop egg mixture by 1/3 cupfuls into pan to form patties. 
Fry until nicely browned, 5 – 7 minutes. 
Gently turn and brown the other side.   When done, remove to a platter and keep warm in 200F (110C) oven while you make the rest. 
Serve with the sauce on the side.
Sauce:
Heat chicken broth, soy sauce and molasses in small pan over medium-high heat, stirring well to mix in molasses.
When hot, stir in cornstarch to thicken. 
Keep warm while making pancakes.