Cuban Beef and Black Beans
Total time: 35 minutes
     Red beans and rice have gotten to be a popular item, recently. I added a bit of beef for a full dinner. Make it as hot or not as suits you. Use black beans or red kidney beans.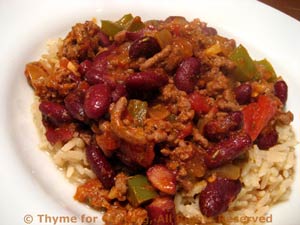 Ingredients:
1 onion
3 cloves garlic
1/2 green pepper
1 tbs olive oil
15oz (450gr) whole tomatoes
12oz ground beef (360gr mince)
15oz (450gr) black beans or red beans
1 tbs Worcestershire sauce
1 tbs Balsamic vinegar
4oz (120gr) green chiles
1 tbs chili powder
1 tsp oregano
1 bay leaf (laurel)
anything else you would like to add to make it hotter - jalapeños, banana peppers?
Brown Rice:
1/2 cup (3.3oz, 95gr) brown rice, quick-cooking
1 cup (8oz, 240ml) beef stock
 Ingredients:
Chop onion and pepper.  
Finely chop garlic. 
Drain tomatoes, reserving juices, and roughly chop. 
Drain and rinse beans. 
Heat oil in large, nonstick skillet over medium heat.  Add chili powder and sauté 1 minute. 
Add onions, pepper, garlic and sauté 7 - 8 minutes. 
Add beef and sauté, breaking it up as it browns. 
Add tomatoes, juices, beans, Worcestershire, vinegar and herbs. 
Cover and simmer 15 minutes. 
Drain green chilies, chop if whole.  Add to skillet, simmer, uncovered, 5 minutes longer. 
Taste, adjust heat, remove bay leaf and serve over rice.
Brown Rice:
Cook rice according to package instructions.