Recipe in:
One Dish Dinners
  (Stir-Fries and Skillet Dinners)
Zucchini (Courgette) Stuffed with Orzo and Feta
Total time: 40 minutes
     I used 2 medium zucchini for this, 7" each (17cm), both green.  You could use one larger one, 9" (22cm). Not all of the 'stuffing' will fit, just keep it warm and serve it on the side.  You could use other small pasta in place of the orzo.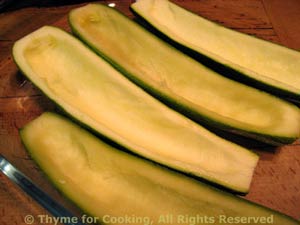 Ingredients:
2 zucchini or summer squash (courgette), 7" each (17cm)
6oz (180gr) ground beef, turkey, sausage
15oz (450gr) chopped tomatoes
1 onion
2 cloves garlic
2 tsp olive oil
1/2 tsp chili powder
1 tsp dried oregano
1 tsp dried basil
1/3 cup (3oz, 90gr) orzo
1/4 cup (2oz, 60ml) beef stock
1/4 cup (2oz, 60ml) red wine
3oz (90gr) feta
1.5oz (45gr) Greek or other olives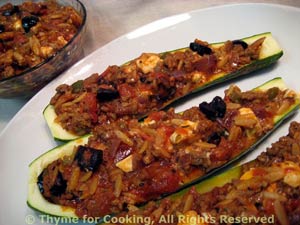 Instructions: