Warm, Stuffed Courgette (Zucchini) Cups
Grilled Tuna with Mustard Sauce
Potato Salad with Mushrooms and Chevre
Grilled Tuna with Mustard Sauce
Total time: 15 minutes
     If you get sushi-grade tuna you will definitely want to have this rare (it has to be graded to a higher standard so it's okay to eat raw).  Regular tuna we normally have medium.  If it gets to close to well done it tends to be dry.  The Mustard Sauce adds a rich finish to the dish.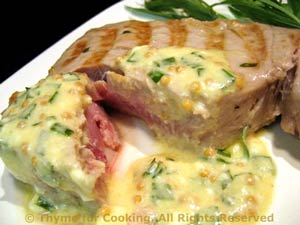 Ingredients:
 Instructions:
Snip tarragon. 

Mix tarragon, oil, lemon juice and white wine.  Spoon on to tuna and let marinate for 10 - 15 minutes. 
Remove tuna from marinade and cook on barbecue grill for 3 - 5 minutes per side (depending on thickness) for regular tuna, 1 - 3 minutes for ahi.   Or until done to your liking.
Can also be cooked under broiler or sautéed in nonstick pan for roughly the same amount of time.  Place tuna on a platter, spoon a bit of Mustard Sauce over and serve, remaining sauce on the side.
Mustard Sauce:
In small saucepan (or in micro) heat white wine, yogurt and mustards, stirring, just until hot and well combined. 
Stir in tarragon and allow to cool. 
Spoon over fish to serve.