Crusted Sole
Total time: 15 minutes
     Sole is a delicate, flavorful fish.  Here it has a light coating of crumbs.... Not so much as to overwhelm it.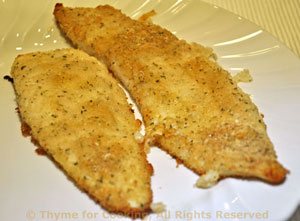 Ingredients:
2 - 4 sole filets about 12oz (360gr) total weight
1/3 cup bread crumbs
1/2 tsp Herbes de Provence
olive oil
 Instructions:
Lightly oil a baking sheet large enough to hold he fish in a single layer.
Put the crumbs and Herbes on a plate and combine well.
Dip both sides of fish in the crumbs and lay on the baking sheet.
Drizzle with a bit more oil.
Bake, 375F (190C) for 10 - 12 minutes, until fish are golden.
Remove and serve.