Poached Eggs with Tortillas
Shrimp and Scallop Newburg
Buttered Brussels Sprouts
Shrimp and Scallop Newburg
Total time: 20 minutes
  This is a lovely dish made with almost any shellfish or seafood.  For a party presentation it can be served in Puff Pastry shells.  I served it on fragrant Basmati rice.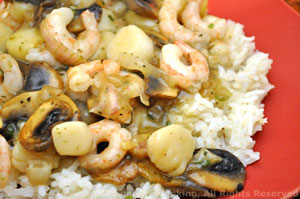 Ingredients:
6oz (180gr) cleaned shrimp
6oz (180gr) scallops
4oz (120gr) mushrooms
2 shallots
1 clove garlic
2/3 cup (5oz, 150ml) chicken stock
1/3 cup (3oz, 90ml) sherry
1 tbs cornstarch  (maizena, corn flour)
1 tbs olive oil
1 tsp dried chives
1 tsp dried marjoram
Basmati Rice
1/2 cup  (3.3oz, 95gr) Basmati rice
1 tsp butter
1 cup (8oz, 240ml) chicken stock
1 tsp dried chives
 Instructions:
If any of the scallops are huge, cut them in half. 
Finely chop shallots and mince garlic (see techniques). 
Trim and slice mushrooms. 
Heat oil in medium nonstick skillet over medium heat.  Add shallots, mushrooms, garlic and sauté 7 - 10 minutes or until just starting to brown. 
Remove to a plate.
In the same skillet, but over medium-high heat, sauté shrimp and scallops until done, 3 - 5 minutes: shrimp curl up and both shrimp and scallops become opaque (white).  
Remove shrimp and scallops to plate with mushrooms and cover to keep warm. 
Add chicken stock and herbs to pan and bring to a boil. 
Dissolve cornstarch in sherry. 
When stock is boiling add cornstarch/sherry to pan and stir constantly until thickened. 
Return shrimp, scallops, mushrooms, etc. to pan.  Stir to coat well and heat through.
Basmati Rice 
Melt butter in small saucepan over medium heat. 
Add rice and sauté, stirring for 2 - 3 minutes. 
Add stock and chives, cover and cook rice for length of time on package. 
When done fluff with a fork. 
To serve:
Spoon Basmati rice onto a small platter.  Make a well in the center. 
Spoon the Newburg into the center of the rice and serve.