Tomatoes with Mozzarella and Basil
Pasta with Shrimp and Avocado Sauce
Sautéed Chard with Red Pepper
Pasta with Shrimp (Prawn) and Avocado Sauce
Total time: 25 minutes
   The avocado makes a wonderful, creamy sauce for the pasta with only the 'good' fat. You can use heavy cream in place of the milk if you crave that richness, but I don't.  It really doesn't need it!  Grilling the shrimp adds another dimension to the dish, but you could just poach them quickly in a skillet in a 1/2 inch of water with a bit of lemon and pepper or use pre-cooked .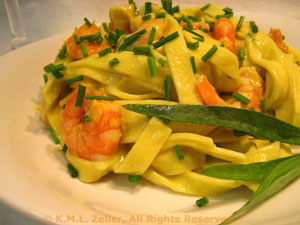 Ingredients:
 Instructions:
Cook pasta according to package directions.  Drain and rinse lightly with cool water.
Clean shrimp if necessary. If not, rinse and drain. 
Mix chili powder, garlic, lemon and olive oil in a bowl. 
Add shrimp and toss to coat.
Cut avocado and remove pit (see techniques). Scoop it out of the shell and put it into your blender.
Add chicken stock, vinegar and purée until smooth.
Add oil and purée just until blended, then add milk and purée a few seconds more. 
Cook shrimp in a grill pan on the barbecue grill over medium heat for 3 - 4 minutes, until they start to curl and turn opaque.  You could also sauté in a skillet in another tablespoon of olive oil.  Either way, when done remove.  It's not necessary to have them hot for this dish. 

To finish:

Put pasta into a large bowl and add avocado sauce, shrimp and chives.  Mix gently and serve.