Salad with Avocado, Feta and Tomatoes
Shrimp with Pimiento Sauce on Herbed Orzo
Green Beans with Bacon and Shallots
Grilled Shrimp (Prawns) with Pimiento Sauce On Herbed Orzo
Total time: 30 minutes
    Add a bit of time if you have to clean the shrimp.  The Orzo is made 'risotto-style' for added creaminess.  The shrimp could also be quickly sautéed. The Pimiento Sauce is enough for 2 dishes.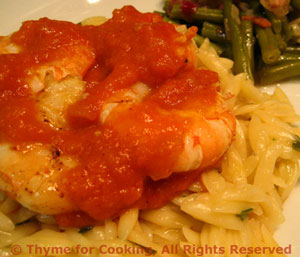 Ingredients:
10oz (300gr) cleaned large shrimp (prawns)
2 tbs olive oil
2 tbs lemon juice - fresh is best
1 tsp paprika
1/2 tsp garlic powder
Pimiento Sauce:
4oz (120gr) pimento pimiento (pimento) or roasted red peppers
1 cup (8oz, 240ml) tomato sauce 
1 shallot
2 cloves garlic
2 tsp olive oil
1 tsp oregano
1/2 - 1 tsp chili powder
2 tsp Balsamic vinegar
Red pepper flakes,

if you want more heat

Herbed Orzo: 
1/2 cup (4.5oz, 130gr)orzo
1 1/4 cups (12oz, 360ml) chicken stock
1 tbs snipped fresh chives   

substitute 1 tsp dried

1 tbs snipped fresh basil   

substitute 1 tsp dried
 Instructions
Clean shrimp if needed, if not just rinse and let drain. 
Mix garlic, paprika, lemon juice and oil in a bowl, whisking well to combine.  
Add shrimp and toss to coat. 
To cook on barbecue grill: either put shrimp on skewers or cook in perforated grill pan with a little olive oil. 
To cook on stove top: add a little olive oil to a large frying pan and sauté over medium-high heat
Either method: cook for 3-5 minutes - until shrimp curl and turn opaque.  When done, remove from heat. 
Pimiento Sauce:
Finely chop shallot and garlic. 
Heat oil in small sauce pan over medium heat.  Add chili powder, shallot and garlic and sauté until tender, about 3 minutes. 
Add the remaining ingredients for sauce and bring to a boil over medium heat. 
Reduce heat, cover and simmer for 5 minutes. 
Purée with blender or immersion blender.  Save half or a bit less of the sauce for another use.
Herbed Orzo:
Put orzo and stock in small pan and bring to simmer on medium heat. 
Turn heat to medium - low, and simmer until done, stirring occasionally, 15 - 20 minutes. 
All stock should be absorbed, if not, drain. Add a bit of water if it gets too dry.
Snip herbs and stir into orzo.  (Add dried herbs at the beginning of cooking) 
Remove from heat.
To Serve: 
Divide the orzo between 2 plates, arranging nicely. 
Spoon 2 - 3 tbs of sauce onto each mound of orzo. 
Arrange the shrimp on the sauce.  Drizzle the shrimp with a bit more sauce and serve.