Barbecued Shrimp (Prawns)
Total time: 15 minutes, longer if you have to clean the shrimp
   Shrimp cook very quickly on the barbecue grill so be careful not to overcook, lest they be dry. They should just curl and be opaque.  The marinade helps retain moisture.  We cook them on a silicone grill mat, but a mesh pan will work, as well.... or skewers.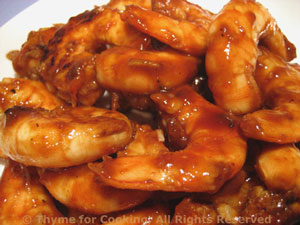 Ingredients:
12oz (360gr) large shrimp (prawns)
3 cloves garlic
2 tbs olive oil
1/4 cup ketchup
1 tbs soy sauce
1 tbs Balsamic wine vinegar
1 tbs molasses
1/2 tsp dry mustard
 Instructions:
Clean shrimp if needed, if not just rinse and let drain. 
Finely mince garlic and add to olive oil in medium bowl. 
Add shrimp and toss to coat.  Set aside until ready to cook. 
Mix ketchup soy sauce, vinegar, molasses and mustard, whisking well to combine. 
Just before cooking add about half of the barbecue sauce to shrimp and toss well. 
To cook on barbecue either put shrimp on skewers or cook in perforated grill pan or on a mat for 5 - 8 minutes, until done. 
To cook on stove add a little olive oil to a large frying pan and sauté over medium-high heat for 3-5 minutes, until done.  Shrimp are done when they curl and turn opaque. 
When done, remove from heat, toss with remaining sauce and serve.