Asparagus with Quail Eggs
Pasta with Shrimp, Avocado and Olives
Sautéed Spinach
Shrimp, Avocado and Olive Pasta
Total time: 25 minutes
     This is a simple pasta dish. Without a proper 'sauce' all of the individual tastes come through clearly, creating a symphony of well-balanced, fresh, savory flavors.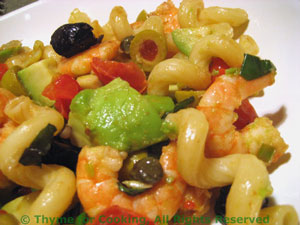 Ingredients:
 Instructions:
Cook pasta according to package directions
Trim and thickly slice green garlic, using as much green top as possible or slice green onion and mince garlic.
Slice olives in half or thirds.
Cut cherry tomatoes in half.
Snip basil. 
Remove avocado from shell and cut into large cubes.
Heat 1 tbs oil in a large, nonstick skillet. 
Add green garlic (or onion and garlic) and sauté briefly. 
Add shrimp and sauté until cooked through (they will turn opaque). 
Add remaining 1 tbs oil, lemon juice, capers, olives, and tomatoes.  Cook, stirring, until tomatoes just start to get soft. 
Add pasta, stir well to combine and heat through. 
Add avocado, basil and serve.