New Year's Eve
Feta and Caper Tarts
Coquilles St. Jacques
Basmati Rice with Mushrooms
Broccoli with Lemon Pepper
Coffee and Chocolates
Coquilles Saint-Jacques
Total time: 30 minutes
     If you are getting scallops in their shells, the shells make a lovely presentation.  I love scallops but do not like the coral.  Remove it or not as suits you.  Be careful not to overcook the scallops.  This used to be very decadent ... I made it recently and trimmed back the fat a bit.  Still...  I only do it once a year.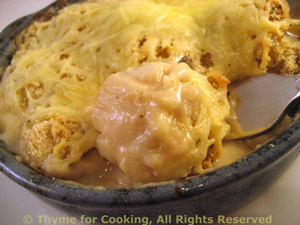 Ingredients:
12oz (360gr) sea scallops
2/3 cup (5oz, 150ml) white wine
2/3 cup (5oz, 150ml) chicken stock
1 bay leaf
3oz (90gr) mushrooms
2 shallots
2 tbs butter
1 tbs flour
1/3 cup (3oz, 90ml) crème fraiche, cream, or Greek yogurt
1/2 cup (2oz, 60ml) shredded Gruyère cheese
1/4 cup bread crumbs
 Instructions:
Bring white wine, chicken stock and bay leaf to boil in large skillet. 
Add scallops and cook until just opaque, about 5 minutes.
Remove and put into two individual baking dishes (scallop shells?) or 1 larger baking dish. 
Boil cooking liquid until reduced by half.  Remove bay leaf. 
Mince shallot and slice mushrooms.
Melt 1 tbs butter in medium skillet over medium heat.  Add shallots and sauté 5 minutes.
Add mushrooms and sauté until golden, about 8 minutes more.
Add shallots and mushrooms to scallops, dividing evenly.
Melt remaining 1 tbs butter in saucepan.
When hot add flour and cook, stirring, for 1 minute.
Reduce heat to low and slowly add in reduced cooking liquid, stirring constantly until thickened.
Add crème fraiche and heat through.
Pour sauce over scallop/mushrooms in baking dish(es).
Sprinkle with bread crumbs and cheese. 
Bake in 375F (190C) oven for 15 minutes, until hot and bubbly.  Serve.