Spinach Salad with Warm Chevre Sautéed
Scallops with Pesto
Parmesan Polenta
Sautéed Snow Peas (Mangetout)
Sautéed Scallops with Pesto
Total time: 10 minutes
     These scallops are finished with a light, pesto-sherry sauce. A bit of crisp bacon rounds out the flavors and marries well with the sweet scallops. Scallops release a lot of liquid when cooked, so be careful not to crowd.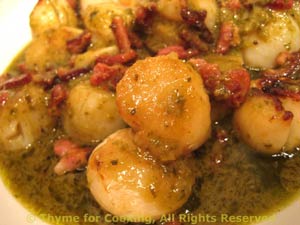 Ingredients:
10oz (300gr) scallops
2oz (60gr) bacon  

2 - 3 strips

1 tbs olive oil
3 tbs sherry
3 tbs pesto
 Instructions:
Rinse scallops and pat dry. 
Cut bacon into matchsticks. 
Heat oil in large nonstick skillet over medium high heat. 
Add bacon and fry until crisp.  Remove bacon. 
Add scallops and quickly sauté, turning once, until opaque. If there is a lot of liquid from the scallops, drain (a bit is okay). 
Reduce heat to low and add sherry, stirring to get up any browned bits. 
Remove from heat and stir in pesto. 
Add bacon, stir to combine and serve.