Mushrooms Stuffed with Bacon and Tomato
Seared Scallops with Prosciutto on Tarragon Cream
Potato Gratin a la Two Fat Ladies
Braised Carrots and Onion
Seared Scallops with Prosciutto on Tarragon Cream 
Total time: 15 minutes
   Scallops are rich, sweet, and often expensive.  But we can still indulge on occasion.  Here they are quickly seared with a bit of Prosciutto and served on a bed of velvety Tarragon Cream.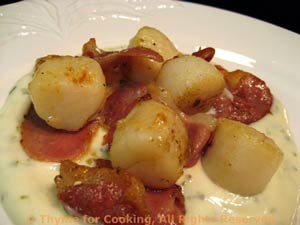 Ingredients:
10oz (300gr) large scallops
4 slices Prosciutto, (2oz, 60gr)   or other dry-cured ham, Bayonne, Serrano
1 tbs olive oil
1/2 tsp paprika
Tarragon Cream:
2/3 cup (5oz, 150ml) white wine
1/3 cup (3oz, 90ml) chicken stock
1/3 cup (3oz, 90ml) Greek yogurt, crème fraiche or sour cream
1 tsp dried tarragon
1 tsp dried basil
1 tbs cornstarch (maizena) dissolved in 2 tbs stock
 Instructions:
Mix olive oil and paprika. 
Add scallops and stir to coat. 
Cut ham slices in thirds.
Combine ham and scallops. 
Heat large nonstick skillet over medium-high heat . 
When hot add scallops and ham.   Stir-fry quickly until scallops turn opaque and ham starts to crisp. 
Remove and serve on Tarragon Cream.
Tarragon Cream:
In a small saucepan, over medium heat,  bring stock and wine to a boil.  
Add tarragon, basil and simmer 5 minutes.
 Mix cornstarch in stock and stir into simmering stock. Cook until thickened - should be quite thick. 
Remove from heat and stir in yogurt / crème fraiche.
Note:  Some scallops will release water when cooked, causing them to steam rather than fry.  Be sure to use a large skillet, giving them plenty of room.  Turn the heat to high after adding the scallops if they don't start to sizzle.