Egg Linguini with Avocado Sauce
Baked Salmon with Sesame-Soy Glaze
Basmati Rice with Mushrooms
Snow Peas with Sesame Seeds
Soy Glazed Baked Salmon
Total time: 25 minutes
  This is a simple glaze that thickens and clears as it bakes. The slightly hot, slightly salty flavor pairs well with sweet salmon.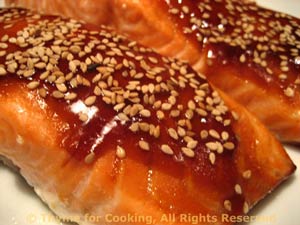 Ingredients:
2 salmon fillet or steaks, 6oz each (180gr each)
1/4 cup (2oz, 60ml) soy sauce
2 tsp cornstarch (maizena, corn flour)
1/2 tsp ground ginger
1/2 tsp garlic powder
1 tbs sherry
2 tsp toasted sesame seeds
 Instructions:
Put soy sauce, cornstarch, ginger, garlic and sherry in small bowl and whisk well. 
Put the salmon, skin side down, on a baking sheet. 
Spoon half of the glaze over the salmon. 
Bake in 400F (200C) oven for 15 - 20 minutes, depending on thickness. Salmon will be done when it flakes easily, slightly pink in the center is fine. 
When salmon is almost done (or done) spoon the rest of the glaze over and bake for 2 - 3 minutes longer. 
Remove, sprinkle with sesame seeds and serve.

To toast sesame seeds:

Put them into a dry, nonstick skillet over medium heat. 
Toss or stir them about in the pan until lightly golden, 2 - 4 minutes.
Note:  For easy clean up cover pan with foil first.  This is especially nice if you are using fillets with the skin on.  You can carefully lift the salmon off the skin to serve, leaving the skin on the foil.  Then wrap the whole mess up and toss.