Roasted Salmon with Red Pepper Sauce
Total time: 25 minutes
    The slightly spicy red pepper sauce is a nice contrast to the sweet salmon.  Save remaining Red Pepper Sauce for another use.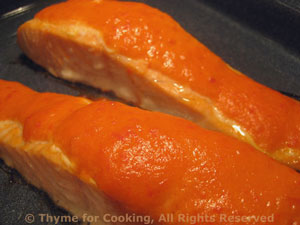 Ingredients:
2 salmon fillets,  12oz (360gr) total weight
1 tsp olive oil
1/3 cup

Red Pepper Sauce

Red Pepper Sauce:
1/2 red bell pepper
1/2 medium onion
1 clove garlic
2 tsp olive oil
1/2 tsp chili powder
1/4 cup (2oz, 60ml) chicken stock
1 tbs white balsamic vinegar
3 tbs Greek yogurt
 Instructions:
Red Pepper Sauce:
Roughly chop pepper, onion and garlic. 
Sauté pepper, onion, garlic and chili powder until vegetables are soft.
Add chicken stock, vinegar, cover and simmer 5 minutes.
Purée in blender with as little of the stock as possible.
Pour sauce out of blender into a small bowl and stir in yogurt.
Salmon:
Put salmon on lightly oiled baking sheet. 
Spoon some of the Red Pepper Sauce evenly over each salmon fillet.  You should use about 1/3 of the sauce.  
Bake at 400 F for 15 - 17 minutes, until fish flakes easily.   Serve.
Note:  For easy clean up cover pan with foil first.  This is especially nice if you are using fillets with the skin on.  You can carefully lift the salmon off the skin to serve, leaving the skin on the foil.  Then wrap the whole mess up and toss.