Pimientos Stuffed with Ham and Chevre
Red-Cooked Salmon with Peanut Sauce
Fried Rice with Broccoli
Red-Cooked Salmon with Peanut Sauce
Total time: 25 minutes
     'Red-cooked' refers to a Chinese technique of poaching or braising in soy-sauce based liquid. Salmon is not a typical fish in Chinese cuisine but it worked very well.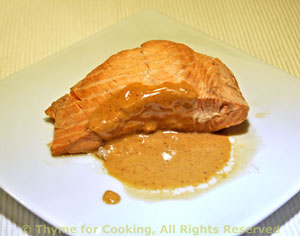 Ingredients:
2 salmon fillets,  12oz (360gr) total weight
1/4 cup (2oz, 60ml) soy sauce
1 tbs minced ginger
2 tbs red wine vinegar
1/2 cup (4oz, 120ml) water
Peanut Sauce:
3 tbs peanut butter
1 tbs soy sauce
2 tbs sherry
1/4 tsp garlic powder
1/4 tsp chili powder
 Instructions:
Salmon:

Add the soy sauce, ginger, vinegar and water to a skillet just large enough to hold the salmon easily.
Add the salmon, curved side down, cover and bring to a simmer.
Simmer slowly, bubbles barely breaking the surface, for 15 minutes, carefully turning the salmon half way through.
At this point salmon should be cooked through, flesh opaque.  If not simmer another 3 - 5 minutes.
Remove from heat and let rest, covered until ready to serve.

Peanut Sauce:

Combine all ingredients in a small bowl and whisk until smooth.

To serve:

Remove salmon to plates, spoon sauce over and serve.