Barbecued Salmon
Total time: 20 minutes
  You could also use salmon steaks, or another firm-flesh fish: tuna, swordfish, halibut.  The sherry and soy sauce make a nice counterpoint to the salmon's richness.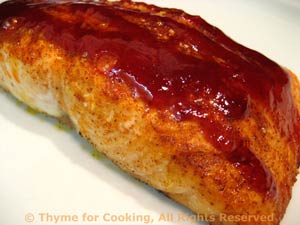 Ingredients:
2 salmon fillets, 6oz each (180gr each)
1/2 tsp paprika
1 tbs soy sauce
4 tbs ketchup
2 tbs sherry
1/2 tsp dry mustard
1/2 tsp garlic powder
 Instructions:
In small bowl mix all ingredients except salmon and paprika.
Sprinkle paprika over salmon. 
Put salmon in a grill basket if using barbecue grill or on mesh grill pan if you don't have a basket. 
Brush fish with part of the barbecue sauce. 
Cook on barbecue grill for 10 - 14 minutes with cover partially closed, basting with the rest of the barbecue sauce towards the end.

OR

put on baking sheet, spoon sauce over and roast in 400 F oven for 15 - 20 minutes, depending on thickness.  In both case salmon will be done when it flakes easily; slightly pink in the center is fine. 
Remove from heat and serve, sliding it off the skin if needed.