Cod with White Wine Mustard Sauce
Total time: 25 minutes 
    Any nice filet of white fish would be good: walleye, sole, catfish, cod, snapper, for this simple dish. The shallots are lightly sautéed and finished with a bit of wine, stock and tarragon.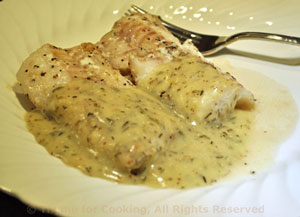 Ingredients:
12oz (360gr) cod, halibut, or other firm, white fish
3 tsp olive oil, divided
1 tsp lemon juice
1 tsp dried thyme, divided
1 tsp dried tarragon, divided
1 shallot
1/3 cup (3oz (90ml) white wine
1/3 cup (3oz, 90ml) chicken stock
2 tbs whole grain mustard
2 tsp cornstarch dissolved in 2 tbs water
 Instructions:
The fish:

Place fish on a baking sheet.
Drizzle lemon juice and 1 tsp olive oil over fish.
Sprinkle with 1/2 tsp each thyme and tarragon.
Bake fish, 400F (200C) for 15 - 20 minutes, depending on thickness, until done.  Fish is done when it starts to turn opaque and flakes with a fork.

The sauce:

Finely chop shallot. 
Heat remaining 2 tsp olive oil in a small saucepan.  Add shallot and sauté until tender.
Add stock, wine, mustard, remaining herbs and bring to a boil.
Reduce heat and simmer 5 minutes.
Dissolve cornstarch in water and add to sauce, stirring until thickened.
Remove from heat and keep warm until fish is done.

To serve:

Spoon sauce over fish and serve.