Vichyssoise
Barbecued Veal Chops
Oriental Rice and Courgette (Zucchini) Salad
Fresh Peach and Berry Salad
Vichyssoise 
(Cold Potato and Leek Soup)
Total time: 25 minutes plus cooling and 5 minutes to finish
    Another classic French dish.  The addition of cream or milk to finish gives it a rich texture.  If you can stand the calories the cream really makes for a luscious soup....  I always use heavy cream if serving to guests.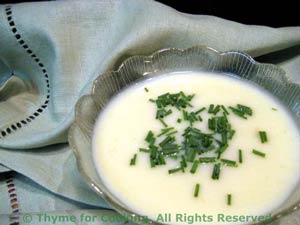 Ingredients:
2 medium leeks, (4oz, 120gr)  

about 1 cup roughly chopped

1 medium potato, (6oz, 180gr) 

about 1 cup roughly chopped

1 tbs butter
1 1/2 cups (12oz, 360ml) chicken stock
1/4 - 1/2 cup milk or cream
2 tbs snipped fresh chives
 Instructions:
Clean leeks - Slice off the top leaving about an inch of pale green, then slice off the stem end.  Slice the leek in half the long way.  Discard the outer layer (more if it is damaged).  Rinse the leek halves under running water, fanning the layers, to get out any remaining sand.  If there is a hard core in the center, pull it out and throw it away. 
Slice leeks thinly (the short way).  You want to slice about 3 inches (7.5cm) of each leek. 
Sauté leeks in butter in medium saucepan, until they are soft. 
Peel and chop potatoes. 
Add to leeks along with chicken stock.  You should have enough stock to just cover the potatoes.  If necessary add more stock or water, but do not use more than needed. 
Reduce heat, cover and simmer until potatoes are done, about 15 minutes. 
Remove from heat, and refrigerate until thoroughly chilled - or longer... 

To Serve:

Purée soup in blender. 
Add 1/4 to 1/2 cup of milk or cream, stirring, until you have desired consistency.
Serve, garnishing each bowl with freshly snipped chives.
Note:  You can set the hot soup pan in cold water (assuming it's a metal pan) to help cool the soup faster.