Fried Tomatoes with Fresh Mozzarella
Pan-Seared Tuna Mustard Cream
Patatas Castellanas (Castilian Potatoes)
Braised Sunchokes (Jerusalem Artichokes)
Fried Tomatoes with Fresh Mozzarella
Total time: 15 minutes
     This is the same, but the opposite, of a summer Caprese Salad:  We want rather hard, supermarket tomatoes, not nice, fresh garden ones and cow's milk rather than buffalo milk mozzarella. But the flavors still hint of summer!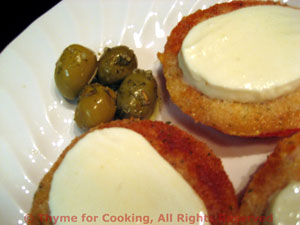 Ingredients:
2 large tomatoes
1 ball fresh mozzarella
1 egg
1/3 cup flour
1/3 cup bread crumbs
2 tbs olive oil

Fresh basil, black and/or green olives 

(all optional, for garnish)
 Instructions:
Cut 2 thick slices from each tomato (tossing top and bottom).  They should be 1/2 inch thick each - if you can get 3 - use 3. 
Slice the mozzarella - one slice for each tomato slice.
If using basil, take the leaves off the stem, tearing the large leaves, leaving the small ones whole.
Get 3 flattish bowls or plates.  Put flour in one, bread crumbs in one and the egg, beaten with a fork, in the last.
Put a large, nonstick skillet on medium - medium high heat.  Add oil and heat. 
With your fingers (or a tongs) pick up one tomato slice, (pick up by putting your fingers around the edge, on the skin) dip both sides in flour, then egg, then bread crumbs, and place in skillet. 
Fry 3 - 5 minutes or until brown; turn with a spatula and fry for 3 minutes more.
Lay mozzarella slices on top of each tomato, cover the pan and cook for 2-3 minutes, until cheese just starts to melt. 
Transfer tomatoes to individual plates, sprinkle basil leaves over top, garnish with some olives if you have them and serve.