Butternut Squash Timbales with Mushrooms
Braised Lamb with Red Peppers
Roasted Potatoes
Butternut Squash Timbales with Mushrooms
Total time: 45 minutes
   The savory onions and mushrooms are a nice contrast with the slightly sweet butternut squash.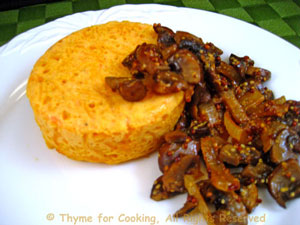 Ingredients:
1 1/2 cups butternut squash, shredded
pinch of nutmeg, salt
2 tbs milk
1/4 cup (1oz, 30gr) shredded cheese
1 tsp Dijon-style mustard
1 egg
butter

Mushrooms

1 onion
4oz (120gr) mushrooms
1/4 cup (2ozm 60gr) beef stock
1 tbs whole-grain mustard
2 tsp olive oil
 Instructions:
Butter 2 ramekins and line with buttered parchment or waxed paper (see Miscellaneous Tips).
Make 2 more circles and butter one side for the top.
Clean butternut squash and shred part of it using the smaller holes on a box grater.  You want enough to almost fill the ramekins very loosely.
Beat egg lightly.
Add butternut squash, cheese, mustard, nutmeg, salt, milk and mix well.
Spoon into prepared ramekins.  Cover with the top circle. Put into a roasting pan with deep sides - I use a metal bread pan, and add hot water (hot tap water is fine) so that it comes half way up the sides of the ramekins. Bake in 400F (200C) oven for 30 minutes, until set - top will be firm. 
Remove from oven and carefully remove ramekins from hot water.
Remove paper.  Run a knife around edges of timbales and invert onto small plates.  Remove paper.
Spoon Mushrooms on the side and serve.
Mushrooms
Chop onion; slice mushrooms.
Heat oil in a medium skillet. Add onions and sauté over high heat for 5 minutes.
Reduce heat to medium-low and sauté until very tender and starting to caramelize, about 15 minutes longer.
Add mushrooms and increase heat to medium.  Sauté 5 minutes.
Add stock, mustard, heat until reduced and thickened. 
Keep warm until needed.
Note:  To clean butternut squash first peel it, using a potato/vegetable peeler.  If it's large (typically) cut it in half between the 'neck' and 'bowl' ends.  Then cut those in half the 'long' way.  Scoop the seeds out of the round end and discard.  I use the neck end for uniform pieces and the bowl end for soups and smaller pieces.