Chilled Tomato Vermicelli Soup
Total time: 10 minutes
     This is an easy summer soup using pantry items.  If made a bit ahead it can be welled chilled but if you can't, just chill the tomato juice ahead of time; even with warm vermicelli, the soup will be cool.  Garnish with some fresh basil.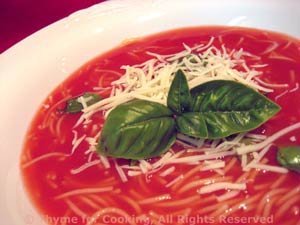 Ingredients:
 Instructions:
Heat the stock in a saucepan until boiling. 
Add vermicelli and simmer for 4 minutes, stirring occasionally.  It should be almost done... but not quite. (for other pasta, follow package directions, cooking until almost done) 
Remove from heat and let cool - it will finish cooking and not get too done. 
When no longer hot, add the tomato juice, stir well and chill until ready to serve.
To serve:
Ladle into soup bowls. 
Divide the cheese and sprinkle over the top. 
Garnish with fresh basil leaves and serve.
Note: If a lot of stock evaporates, you can add a bit of ice to help cool the soup and 'reconstitute' the beef stock.