Chilled Lettuce Soup
Total time: 25 minutes
   Why not?  We make soup of cabbage, spinach and other greens.  Lettuce Soup is a bit more delicate, depending on what types of lettuce used.  I would suggest using dark green varieties and not adding any purple - it could be a strange color.  It can be made ahead and served cold, straight from the fridge.  I used the outer leaves of heads intended for later in the week.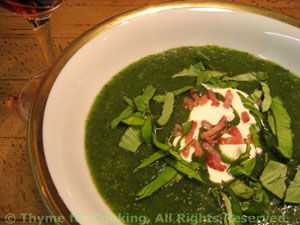 Ingredients:
 Instructions:
Heat oil in saucepan and sauté onion for 2 minutes.
Add potato, stock and bring to a boil.  Cover and simmer 15 minutes.
Uncover the saucepan and stir in the lettuce and tarragon. 
When lettuce has wilted (almost immediately) remove from heat and  purée in a blender. 
Set aside to cool to room temperature or refrigerate for colder.
Fry bacon until crisp. 
Remove, drain on paper towel and crumble. 
When ready to serve ladle soup into bowls, dollop 2 tsp of yogurt onto each serving, sprinkle with bacon, a bit more shredded lettuce and serve.