Egg Drop Soup
Total time: 10 minutes
    This would be best with homemade chicken stock but I'll be using 'store-bought'.  The trick is to have the egg whisked lightly and only stir once after it's in the hot soup.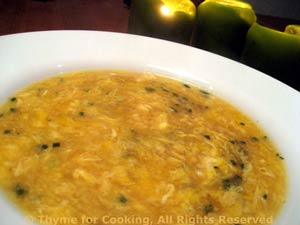 Ingredients:
3 cups (24oz, 720ml) chicken stock
1 egg
1 tbs cornstarch (maizena) dissolved in 2 tbs chicken stock
2 green onions (scallions)
 Instructions:
Clean the green onions: slice off the root, remove 1 layer of skin.  Slice thinly, including 2 inches (5cm) of green top.  Set aside.
Heat 3 cups chicken stock to boiling.
Crack egg into a medium bowl and whisk lightly.
Dissolve cornstarch into 2 tbs of chicken stock.  Add to boiling stock, stirring until thickened and clear.
Slowly pour in egg.  Stir once gently.
Immediately remove from heat. Ladle into 2 bowls.
Sprinkle with sliced green onion and serve immediately.