Cauliflower Soup with Gruyère
Baked Lamb Chops with Persillade
Potato Crisps
Chickpea Purée
Cauliflower and Gruyère Soup
Total time: 35 minutes
    This is a lovely, creamy soup. It gets quite thick after you stir in the cheese so I keep a bit of hot broth on hand to thin it to the right consistency. The fresh Parmesan adds a distinctive nutty taste.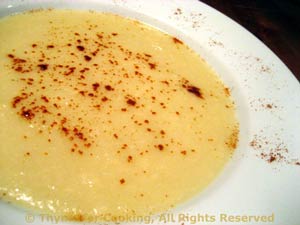 Ingredients:
 Instructions:
Chop onion and celery. 
Cut cauliflower into small florets (leaving small 'stems'). 
Melt butter in medium saucepan over medium-high heat. 
Add celery and onion and sauté until tender, about 5 minutes. 
Add cauliflower, 1 1/2 cups of broth and thyme. 
Bring to a boil, reduce heat and simmer until cauliflower is tender, 20 - 25 minutes. 
Purée soup in a blender or using an immersion blender. 
Return soup to heat, add milk or cream and bring to a simmer. 
Add more chicken broth if desired. 
Taste and add salt & pepper if needed. 
Reduce heat and add cheese, whisking to combine.  Do not let it boil or the cheese may separate.  Add more hot broth if needed. 
Ladle into soup plates, sprinkle fresh Parmesan, paprika evenly over the top and serve.