Christmas Day Dinner or Christmas Lunch For 4
Smoked Salmon Salad
Glazed Ham with Mustard Sauce
Scalloped Potatoes
Brussels Sprouts with Chestnuts
Bûche de Noël recipe not included
Smoked Salmon Salad
Total time: 10 minutes
     If you are buying the shrink-wrapped, dry-smoked kind 1 package should be enough.  If you are buying the moist, European kind that is pre-sliced, paper thin, you will want 2 - 3 slices per person depending on how big the slice.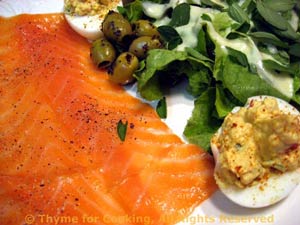 Ingredients:
Smoked salmon, 2oz (60gr) per person
Lettuce - enough for small salads per person
2 - 4 tsp capers
Olives, nice ones for garnishing
Vinaigrette
1 tbs tarragon white wine vinegar
1 tbs lemon juice
1 tsp chopped fresh chives or 1/2 tsp dried
1 tsp chopped fresh tarragon or 1/2 tsp dried
1 small shallot or 1/2 large
1 clove garlic
1 tsp Dijon mustard
1/3 cup good olive oil
 Instructions:
Mince shallots and garlic, snip chives and tarragon if using fresh and put all in medium bowl with vinegar, juice and mustard.
Whisk well.
Add oil very slowly whisking all of the time.  It should incorporate as you add it.  If it does not, stop adding oil for a few moments and just whisk.  Continue until all oil is added.
Add salt & pepper if desired.
Tear enough lettuce for small salads and put in a medium bowl.
Add 2 - 3 tbs vinaigrette and toss well.  Taste and add more vinaigrette if desired.
Divide salad and put on dinner plates - off to the side. 
Artfully arrange salmon by lettuce, sprinkle each plate with capers, add desired amount of olives and serve.