Shrimp and Avocado Cocktail
Grilled Lamb Chops with Sweet/Sour Marinade
Grilled Potatoes and Carrots Dijon
Shrimp (Prawn) and Avocado Salad
Total time: 10 minutes
    In Ireland they call this 'Mary Rose' sauce - haven't a clue why, but it's simple and delicious; different than the traditional American version of ketchup and horseradish. I added the capers. You'll need a bit more time if you have to clean the shrimp - another 10 - 15 minutes.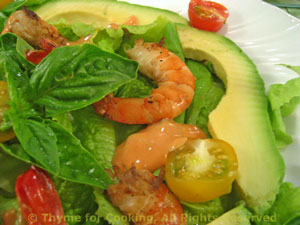 Ingredients: 
6oz (180gr) cleaned shrimp
2 tsp olive oil
1 tsp soy sauce
1 avocado
8 cherry tomatoes
lettuce for 2 small salads
handful fresh basil
Sauce:
4 tbs (2oz, 60gr) mayonnaise
2 tbs (1oz, 30ml) ketchup - hot or Mexican ketchup is good
1 tbs capers, chopped
1 tsp soy sauce
1/4 tsp garlic powder
 Instructions:
Clean shrimp if necessary.  Heat oil, soy sauce in a medium nonstick skillet. 
Add shrimp and stir-fry quickly, until just opaque. 
Remove from heat and let cool.
Prepare lettuce. 
Cut cherry tomatoes in half.
Slice avocado. 
Arrange lettuce on 2 plates. 
Add avocado slices, tomatoes, shrimp and basil. 
Mix mayonnaise, ketchup, soy sauce, capers and garlic powder. 
Spoon sauce over and serve.