Warm Spinach Salad
Sautéed Sole with Lemon Butter
Carrot and Basmati Rice Gratin
Warm Spinach Salad
Total time: 10 minutes
    This is a cross between a salad and a vegetable.  I've added a bit of bacon to it but you can leave it out for a vegetarian version.  Be careful to cook the spinach for a just a minute, only to wilt slightly.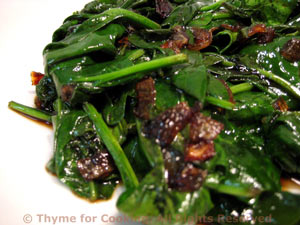 Ingredients:
 Instructions:
Cut bacon into matchsticks. 
Wash and stem spinach if needed.  Drain in a colander.  If you don't feel you need to wash it - do it anyway.  We want a little bit of water on the leaves - what ever is left on the leaves after draining well. 
Cut any really large leaves. 
Heat oil over medium high heat in large nonstick skillet. 
Add bacon and sauté until crisp. 
Add vinegar, thyme, sugar and heat through. 
Add spinach and quickly stir-fry, 1 minute.  The spinach should just start to wilt. 
Remove, sprinkle with salt, pepper and serve.