Lentil Salad with Mozzarella
Total time: 40 minutes
    For salads I use the tiny green French lentils 'du Puy'.  You could use the larger brown lentils but not the pretty red ones. If you can't find Mozzarella di Bufala, regular cow's milk mozzarella will be fine.  If you are having the Prosciutto sliced to order (rather than buying pre-packaged) it should be 'paper-thin'.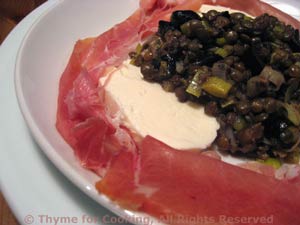 Ingredients:
1/3 cup lentils
1 cup (8oz, 240ml) beef stock
1/2 cup (4oz, 120ml) water
1/2 onion
1 rib celery
1 clove garlic
1/2 tsp paprika
1 tsp dried basil
1/2 tsp dried oregano
2 tsp olive oil
3 slices Prosciutto, 2.5oz (75gr)
4 small slices of fresh mozzarella, 1/2 ball   

Di Bufala if possible

2 tbs olive oil - the good kind, for salads
2 tbs balsamic vinegar
 Instructions:
The lentils:

Rinse and pick through lentils (in case quality control missed the odd stone). 
Put in a small sauce pan along with stock and water and bring to a boil.  Reduce heat, cover and cook until done - about 20 minutes.  Taste to determine when done properly. 
Drain any excess cooking liquid and set aside to cool slightly. 

The rest:

Chop onion and celery. 
Mince garlic. 
Heat 2 tsp oil in a small skillet.  Add paprika, onion, celery, garlic and sauté until tender. 
Set aside and allow to cool slightly.
Slice 4 small slices off of the Mozzarella, reserving the rest.
Slice the Prosciutto in half the long way.

To finish:

Whisk together the oil, vinegar and herbs in a bowl large enough to easily hold the lentils. 
Add the lentils and mix well.
 Add the onions, celery, garlic and stir. 
Divide the lentils and mound onto two serving plates. 
Lay 2 slices of mozzarella on either side and arrange the Prosciutto around the edge.  Serve.