Warm Lentil Salad with Mustard Cream
Brined and Grilled Pork Tenderloin
Roasted New Potatoes
Asparagus with Lemon Sauce
Warm Lentil Salad/Creamy Mustard Dressing on Spinach
Total time: 30 minutes
     Lentils make wonderful, flavorful, nutritious salads.   I use the tiny green French ones - du Puy.  You could use the larger brown lentils, but not the red ones which would turn into a purée.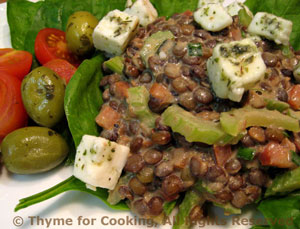 Ingredients:
1/3 cup lentils
1 cup (8oz, 240ml) beef stock
1/2 cup water
1/4 cup sliced celery, about 1 rib
1/4 cup sliced red or green pepper, about 1/4 pepper
2 tsp dried chives
1 tsp dried oregano
3oz (90gr) fresh spinach leaves
2oz (60gr) feta cheese
1 tbs Dijon-style mustard
1 1/2 tsp soy sauce
1/4 cup (2oz (60gr) plain or Greek yogurt
1 tbs white Balsamic vinegar
1 tbs olive oil, for salads
 Instructions:
Rinse and pick through lentils (in case quality control missed the odd stone).
Put in a small saucepan along with stock and water and bring to a boil.
Reduce heat, cover and cook until done - about 20 minutes.  Taste to determine when done properly.
Drain any excess cooking liquid and put into a bowl.
Thinly slice celery.
Finely chop pepper.
Add celery, pepper and herbs to lentils.
In a small bowl whisk together mustard, vinegar, soy sauce and yogurt.
Add oil and whisk to combine.
When lentils have cooled a bit (warm rather than hot) add mustard cream and mix well.
Cube or crumble  feta, add and toss gently.
Prepare spinach if needed.
Arrange spinach on two plates.
Divide lentil salad and spoon on top of spinach.  Serve.