Composed Salad with Asparagus
Stuffed, Barbecued Pork Loin
Grilled Potatoes with Mustard and Vinegar
Sautéed Courgette (Zucchini) and Spinach
Composed Salad with Asparagus 
Total time: 20 minutes
   A Composed Salad is one that is arranged, artfully, on a plate rather than tossed.  You can use any ingredients you like.... Have fun with it.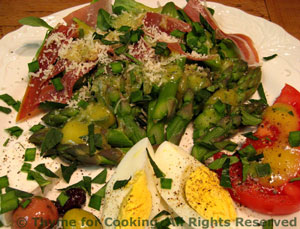 Ingredients:
lettuce, enough for 2 small salads
4oz (120gr) asparagus
1 egg, hard cooked
1 tomato
2 slices Prosciutto
a few olives
2 tbs Parmesan
1 tbs fresh, snipped chives
1 tbs fresh, snipped basil
Vinaigrette:
1 tsp Dijon-style mustard
1 tsp lemon juice
2 tsp tarragon white wine vinegar
3 tbs salad olive oil
 Instructions:
Hard cook egg.
Snap off ends of asparagus. If white use vegetable peeler and peel bottom half of stalk.
Cut asparagus in 1 1/2 inch (4 cm) lengths. 
Fill large saucepan half full of water and bring to a boil over high heat. When boiling, drop in asparagus and parboil for 2 minutes if green, 3 if white.
 Drain and immediately rinse with cold water. 
Slice tomato.
Prepare lettuce; rinse well and spin dry. 
Peel and quarter egg when done. 
lice Prosciutto into strips. 
Shave or grate Parmesan. 
Snip herbs.
In a small bowl whisk mustard, lemon and vinegar. 
Slowly drizzle in olive oil, whisking constantly.
To finish:  
Arrange lettuce on plate. 
Artfully arrange asparagus, egg, tomato and Prosciutto.  Sprinkle with cheese and herbs. 
Drizzle each salad with half the vinaigrette and serve.