Spinach Salad with Sautéed Chicken Livers
Pork Loin Braised with Apples and Onions
Roasted Potatoes
Balsamic Glazed Carrots
Spinach Salad with Sautéed Chicken Livers 
Total time: 20 minutes
      This salad is traditional and served in every cafe in France - except with escarole and gizzards rather than spinach and livers.  I added the bacon - just because.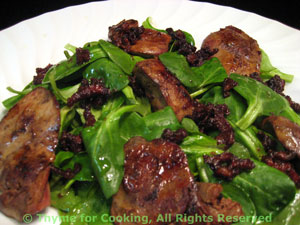 Ingredients:
 Instructions:
Cut bacon into matchsticks. 
Cut livers in half, trimming any fat.  
Heat butter, soy sauce and vinegar in nonstick skillet over medium high heat. 
Add bacon and fry until almost crisp (it's staying in the skillet). 
Add livers; brown well, 2 - 3 minutes per side, but do not over cook.  Slightly pink in the center is good. 
While livers brown, prepare spinach and put into a bowl. 
Make vinaigrette:
Whisk vinegar and mustard. 
Slowly whisk in oil and whisk until it emulsifies. 
Toss spinach with half of the vinaigrette.  Arrange on 2 plates. 
When livers are done arrange on spinach. 
Pour remaining vinaigrette into skillet and deglaze pan - stirring up the bacon and the browned bits. 
Pour warmed dressing over livers and serve.